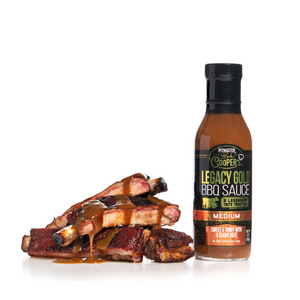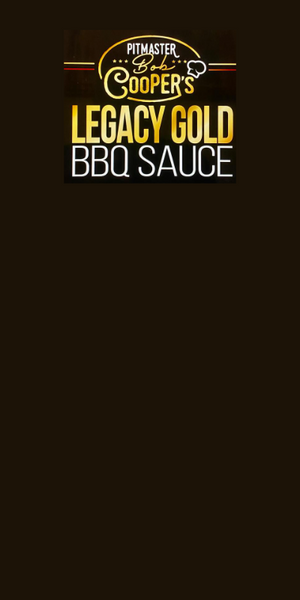 SWEET AND TANGY!
A delicious blend of ketchup and mustard with a hint of vinegar combine with premium spices to create this flavor filled trio of sauces!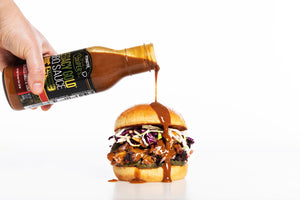 Every drop of Legacy Gold BBQ Sauce complements and enhances the flavor of your favorite proteins and veggies to create the perfect pairings!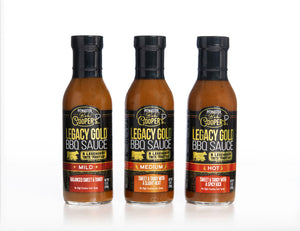 THE SAMPLER PACK
THREE FLAVORS OF GOODNESS
Not sure what to order, start with one of our Sampler Packs! You'll have everyone in your circle of family and friends covered as you allow our Legacy Gold BBQ Sauces to help you turn your next gathering into a legendary feast!
SHOP NOW

...The flavor is smooth and not overpowering. Not too thick; not too thin. My favorite so far is the balanced sweet and tangy sauce. The medium has a kick to it (true to it's claim of slight heat)...I can only imagine how the hot tastes. I'm looking forward to trying the other sauces. Please guys support this company and order some bbq sauce.
Charese M.

Had to bbq steaks this weekend. This mild Legacy Gold BBQ sauce was IT! A perfect blend of everything tasty. Worked great as a mopping sauce and a dipping sauce! Absolutely recommend! Adding to my rotation of sauces - truly delicious!
Lindsay J.
So, my family and I decided to try our Legacy Gold BBQ sauces this weekend and they were absolutely amazing!! It was hard to pick a favorite because they were all so good. We loved all three and will definitely order more.
Sherry C.

My brother! This sauce is truly gold. I'm ready to throw some meat on the grill right now! Wishing you great success. Everyone please support my friend.
Tre' E.

OH MY GOODNESS! This BBQ sauce is EVERYTHING!!! Thank you so much. I will definitely be ordering more! The sweet, tangy, spices - PERFECT! Go and order yours today! You don't know what you're missing!
Tawana R.
I received my sauce today friend. Let me tell you, you all did not disappoint. From the quick shipping, to the beautiful packaging, everything is top notch. I will definitely be ordering more! it tastes wonderful. Bless you on your journey.
Cheryl W.