Our Story
Bob Cooper's acclaimed BBQ sauce, Legacy Gold, traces its roots to a family restaurant founded by him and his wife, Liz, in Jacksonville, Florida back in 1965. Soon after, as its fanbase grew, the eatery expanded with new branches across town, serving mouthwatering BBQ meals that became a staple for locals for several decades.
The recipe for the iconic sauce was handed down to Andre, the successor of the Cooper restaurant legacy. Over the years, it made countless appearances at community events, church fellowships, and outreach programs, leaving a trail of satisfied palates with its perfect balance of flavors.
Now, we're excited to offer you a taste of this secret sauce. The same beloved recipe that has been enjoyed for generations is finally yours to savor!
Legacy Gold comes in three flavors:
Mild BBQ Sauce
Balanced Sweet & Tangy
Balanced sweet & tangy with the perfect blend of southern goodness in every drop! Not too sweet. Not too tangy. Always just right!
Medium BBQ Sauce
Sweet & Tangy With A Slight Heat!
The smooth flavor profile of our classic mild sauce complements this blend with just enough habanero, cayenne, and chipotle peppers to add a bold accent of flavor!
Hot BBQ Sauce
Sweet & Tangy With A Spicy Kick!
The perfect combination of smooth flavor and spicy undertones. This flavor-forward sauce packs a punch without sacrificing flavor for heat. Ideal for wings, chicken, beef, and pork!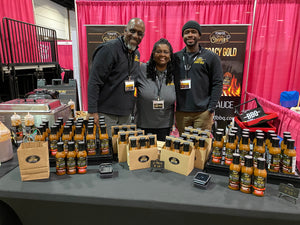 A Family Business
CONTINUING THE LEGACY
We are continuing the tradition of providing great tasting BBQ with a premium BBQ sauce. It is our goal to help turn your next BBQ event into a legendary feast! Contact us if you are interested in having us cater your next BBQ event and follow us on social media to stay abreast of our upcoming events and product features. Contact Info: (850) 800-6955 Email:info@legacygoldbbq.com SocialMedia:@LegacyGoldBBQ